A gemstone steeped in history.
Amethyst: the birthstone for February and the 33rd wedding anniversary. An intoxicatingly rich, purple gemstone that has long been a favourite of Royals & the Church.
The name Amethyst comes from the Greek – méthystos ("intoxicated"), and have long been the subject of legend and myth, including perhaps the most famous – concerning mental health.
In Greek mythology, a titan named Rhea gave the god of wine, Dionysus, an amethyst to help preserve his sanity. In fact, this myth led the ancient Romans to believe that amethysts could keep them from getting drunk.
A variety of quartz
Amethyst was as expensive as Emerald or Ruby until the 19th Century when large deposits of it were discovered in Brazil and is now found in numerous countries, most notably Siberia, Sri Lanka and Brazil. Of all examples of amethyst the Deep Siberian is the most coveted and as such valuable. What sets the Deep Siberian variant apart is its rich purple hue, coupled with secondary blue and red hues.
The gemstone is a purple variety of quartz that is found in many locations around the world and forms as terminated crystals of all sizes inside geodes, clusters and as long single terminations.
Famous artefacts
The Delhi 'Sapphire' – is actually an Amethyst. It was incorrectly identified in the nineteenth century. It is said to be cursed since it was looted from a temple in Kanpur, India, during the bloody Indian Mutiny of 1857. It is now in the collection of the Natural History Museum in London.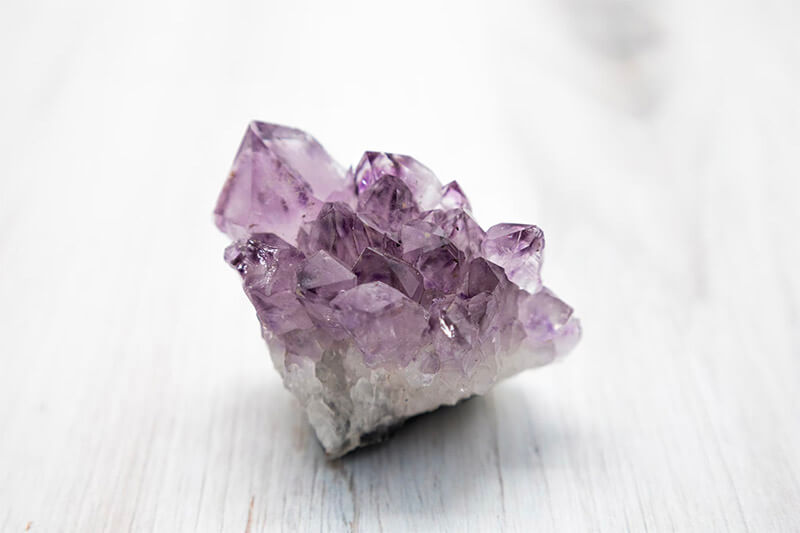 The Tiffany Amethyst Necklace. A 56 carat square cushion cut Amethyst delicately surrounded by vines, leaves and grapes, designed by Louis Comfort Tiffany, circa 1915. Procured by George F. Kunz, chief gemologist at Tiffany's at the time. It is a much larger and of higher gem quality than any others in the National Gem Collection from this Russian locality. It was then generously donated to the Smithsonian in 2007.
View our collection
The famous gemstone has been used in jewellery for centuries, and being a durable gemstone it can be used to form all types of jewellery. Ranging in colour from a subtle pale pastel to a gorgeous, rich velvety deep purple they can be easily set in all types of metal.
View more earrings, rings and pendants in our Amethyst collection. including: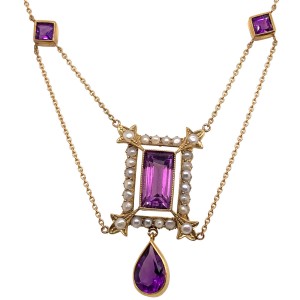 Victorian Amethyst & Seed Pearl Necklace
Victorian 15ct gold amethyst and seed pearl necklace. Four Amethyst 2 smaller squares, 1 pear shape and larger rectangular measuring 12mm x 7mm with 24 seed pearls surround.
Price: £1,950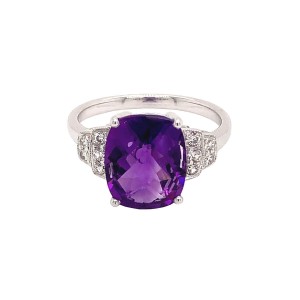 3.18ct Amethyst & Diamond Ring
Or alternatively this modern rectangular cushion shape, with chequerboard facets, 4 claw set in 18ct white gold, with 10 small round brilliant cut diamonds set on stepped shoulders 0.19ct total weight.
Price: £1,325
Contact us today
If you'd like to see more of our collection than we currently have on the website, please don't hesitate to contact us today or come and see us in the shop. Our friendly team would love to help, and show the other pieces in our stunning gemstone jewellery collection.