Bespoke Jewellery Design & Commissions
Cry for the Moon are established jewellers in Guildford, Surrey. Our highly regarded team have a passion for exquisite diamonds, gemstones and perfectly crafted jewellery. Our Master Craftsman, Simon Gearty, was the first person to be awarded 1st prize for diamond modelling in both the first and second year at the prestigious Sir John Cass School of Art and Design, an accolade which has yet to have been repeated by subsequent students.
With our own in-house design team and award-winning jeweller, we are able to create stunning and exclusive bespoke jewellery. Our highly experienced jewellery designers will work closely with you to design unique jewellery that reflects the style preferences and personality of the person it is being designed for, whether that be for you or a loved one.
Bringing Your Bespoke Jewellery to Life
Our creative experience is second to none. We have the expertise to transform your vision into a stunning one-of-a-kind piece of jewellery that you will treasure for a lifetime.
How it begins
Our bespoke design process begins with a conversation, ideally in person, but this can be by email or over the phone. First of all, we need to hear your ideas and begin to understand exactly what it is that you have in mind.
Importantly, we will ascertain your budget at the outset and offer guidance on materials and gemstones or diamonds. One of our most important considerations when creating bespoke jewellery is quality, so we prefer to work with platinum as this is a superior precious metal and isn't used in mass production. We can also work with 18ct gold if that is your preference, or refashion antique, vintage or unworn jewellery into new designs.
If you have any pictures or have found images online that represent the kind of jewellery piece you would like, we are happy to refer to these during the design process.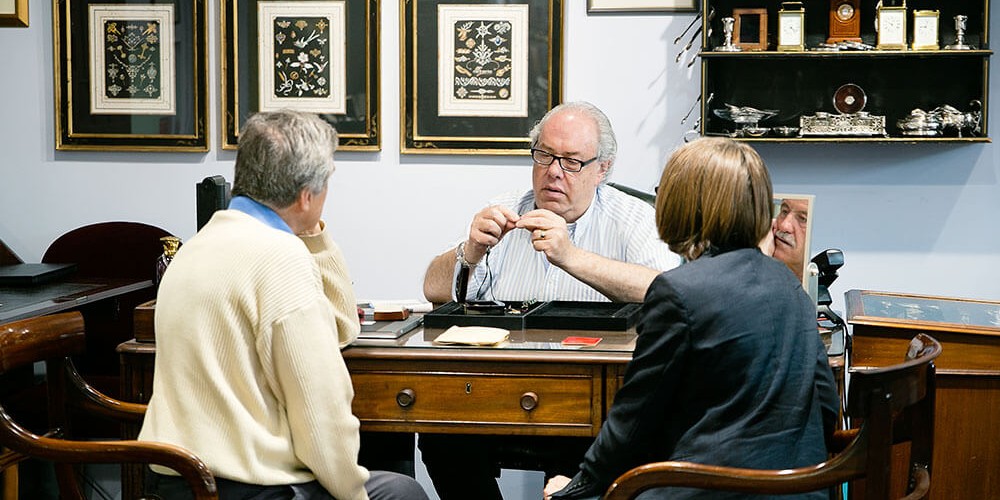 We have over 100 years' experience in sourcing the most beautiful diamonds and gemstones. We have many diamonds in a range of carats in stock, along with an impressive collection of gemstones from stunning red Rubies and vibrant green Emeralds, to deep blue, pink or yellow Sapphires, as well as many more precious gemstones in a spectrum of colours.
In the unlikely event that nothing in our vast stock catches your eye, we can source diamonds and gemstones to match your requirements in as little as 48 hours.

Once we have listened to your ideas, we will create a sketch illustrating the design for your approval. If you have conveyed a clear idea of the design, a sketch may not be necessary. For jewellery commissions costing over six thousand pounds, we can provide professional drawings.
Bringing Your Dream Bespoke Jewellery to Life
Once you are happy with the design we set to work. Bespoke jewellery commissions generally take around 5 to 6 weeks to complete. Every piece of bespoke jewellery commissioned at Cry for the Moon is completely handmade, from assembly and setting through to polishing and hallmarking.
Our Master Craftsman is known in the jewellery trade for his exceptional model making skills. Simon uses the process of making a silver mould to cast platinum jewellery which results in a far superior piece of jewellery than with other methods of working with platinum. Every diamond and gemstone is carefully set in place by hand.
Once your bespoke jewellery is ready, we will call you to invite you into our Guildford shop to collect it. We promise you will be absolutely delighted. For bespoke rings we may ask you in to the shop for a ring fitting before we set any stones and complete the final finish and polishing.
Bespoke engagement rings
Nothing honours a special relationship and a marriage commitment like a beautiful bespoke engagement ring. Whether you prefer a timeless classic engagement ring or something more unusual, our expert designers can bring your dream to life with a stunning Cry for the Moon design. There couldn't be a better way to symbolise your future together than with a bespoke engagement ring.
Bespoke wedding rings
We understand that your wedding ring is a very special purchase. A bespoke wedding ring is a true celebration of your unique love and commitment to one another. We can custom make your wedding ring to follow the shape of your engagement ring and engrave a special message or a simple reminder of the date.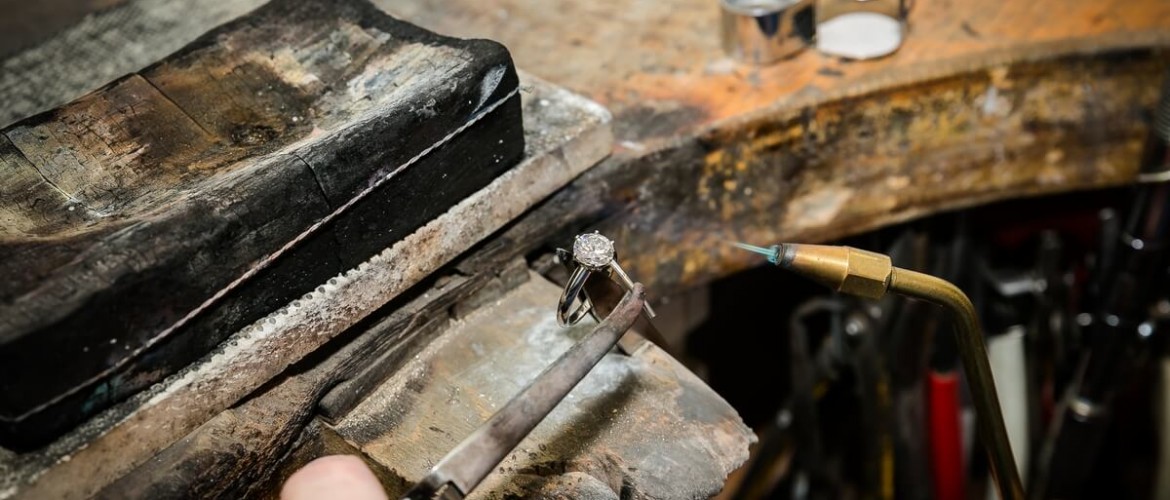 Our bespoke jewellery service is situated in our shop in Tunsgate, Guildford, Surrey. All of our bespoke commissions are handmade in our own workshop by our experienced team of jewellery designers.
Please come in to see us at our Guildford premises
At Cry for the Moon we make jewellery dreams a reality.