Sell Your Gold & Jewellery to Cry for the Moon
Cry For The Moon in Guildford offer extremely competitive prices for unwanted gold, jewellery, coins and watches in the Surrey area.
With the price of precious metals on the rise it is a great time to sell your gold.
We have nearly 50 years' experience buying and selling antique jewellery including diamond rings, brooches, pendants and any jewellery
with precious stones. We buy silver, platinum, palladium and any precious metals, as well as loose diamonds, sapphires and any other gemstones.
Our valuation expertise
We are dedicated to giving you the best possible price for any platinum or gold jewellery items, including anything set with diamonds or precious gemstones.
Our experienced jewellers and gemmologists can inspect any jewellery, loose diamonds or gemstones. Using our onsite valuation equipment, we can assess your jewellery and give you a competitive price while you wait.
You are of course under no obligation to sell to us. We understand letting go of family heirlooms can be difficult, so we are more than happy for you to go home and take some time to think about it. Simply come back to us at any time if you decide to sell.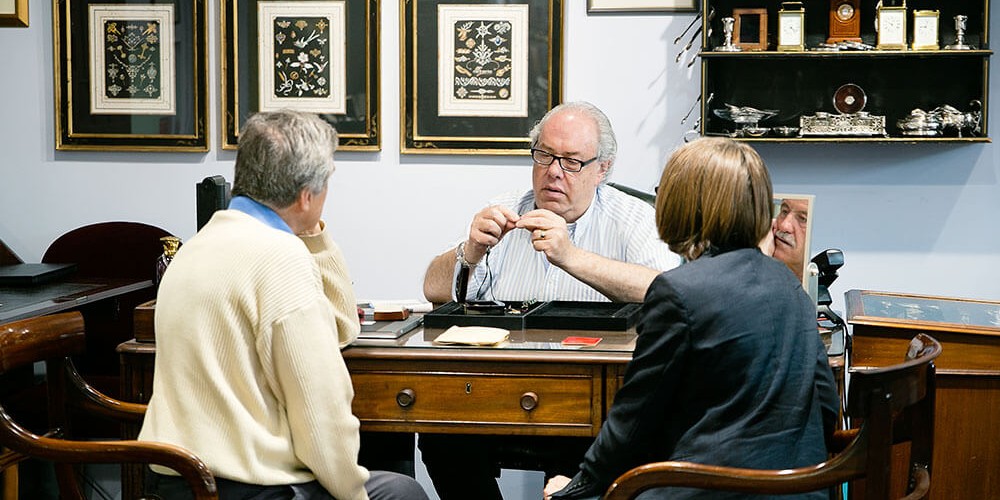 What type of gold and jewellery items do you buy?
We accept a wide range of items, with some of the most popular being:
Gold rings
Gold bracelets
Gold necklaces
Gold coins
Gold watches
Diamonds
Antique jewellery
Gem set jewellery
Silver tableware
Please give us a call if you have any questions about items you would like to sell that are not listed above.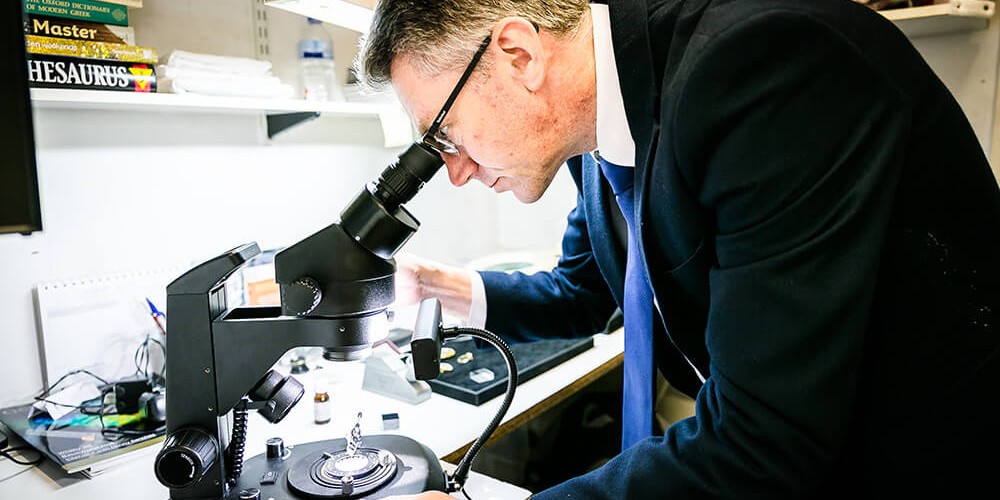 Do you have gold or jewellery you would like to sell?
Estate Appraisals
We are experts in the field of estate appraisals. It is a sad time when someone passes away, but we understand that you may have inherited jewellery you will just never wear. We offer a sensitive estate appraisal service so you can realise the value of your estate jewellery to use for a more meaningful purpose.
Bring your estate jewellery and silver tableware to us and we promise a confidential service and accurate valuation based on a fair market value. We have extensive experience in appraising estate jewellery and offer precise valuations based on our many years' experience and vast knowledge of diamonds, precious gemstones and antique jewellery.
Or perhaps you are a private collector consolidating your collections and have a number of items you want to sell. We can offer a fair price for any jewellery collection.
Antique and vintage jewellery
Pre-owned and antique jewellery is our speciality. Our knowledgeable buyers can sit down with you and discuss the integrity of your jewellery items and give you a fair price.
We are always interested in buying antique jewellery, especially Georgian, Victorian, Edwardian, Art Deco and Art Nouveau pieces, for example, pieces by René Lalique. We appreciate that jewellery tastes change and many of our clients like to sell or part-exchange antique jewellery to buy newer pieces.
We also buy vintage Jewellery from established brands. If you are looking to sell any Cartier, Fabergé, Bvlgari, Giuliano or collectable George Jenson pieces, please bring them in to us for appraisal as we can offer premium prices for these brands.
Don't worry if your antique jewellery is broken or if earrings are mismatched, you can still sell to us if we deem the items suitable for repair or repurposing.

''
Beautiful Jewellery!
Amazing, absolutely loved this place! I bought my wife's (heart shaped diamond) engagement ring from here, and she loved it. So helpful and full of great advice, plus the craftsmanship and presentation of the ring blew me away. We then got our wedding bands from here, and will definitely be back soon for more… Quirky, traditional jewellers making super high quality stuff – very highly recommended!
''
Perfect service...
Just had a bracelet cleaned and repaired for my grand-daughter – lovely, helpful people, willing to spend time and effort to get things right.
''
Amazing from start to finish
I collected a necklace today which has been made for me from inherited jewellery. It's beautiful and the advice, craftsmanship and service have been first class.
''
Stunning jewellery
We purchased all our wedding jewellery from here and they also did a brilliant job of repairing my engagement ring when my horse ate one of the diamonds and damaged the ring. They have also ordered in items according to requirements when not stocked in the shop. Would thoroughly recommend.
''
Great value for money
Exceptional service from the team but a special mention for Pauline. From start to finish everything was explained with absolute clarity. An abundance of knowledge left me feeling extremely satisfied and great value for money.
''
Will very much recommend!
Extremely wonderful, quick and great customer service. Fixed my grandmother's necklace in no time at all when everywhere else had said it needing sending away. Very very impressed and a super happy customer.
''
Entered crying.... Exited smiling.
Steven and his colleague (South African lady) were knowledgeable and helpful with the tolerance of saints. They helped my sister and I with two prices of jewellery that our deceased Mum had left to us.
Very happy with the expertise and guidance. My sister and I have a special piece of jewellery each now to remember our Mum by.
Thank you both so much.
How do you evaluate a price for gold?

Cry For The Moon offer competitive prices for gold based on the daily gold price. We will value your items on-site at our shop in central Guildford based on weight and the quality of the gold, to give you an on-the-spot valuation using the current gold rate.

Unlike online gold selling websites you won't have to pay postage and risk losing your items in transit.

When can I expect payment?

Our service is a personal alternative to auction houses, who can charge as much as 25% of the selling price. When we agree to buy any jewellery or silver tableware items from you, we will pay you the agreed price immediately by cash, cheque or bank transfer. With an auction house, you will likely wait months to receive your payment.
If you are interested in selling your gold, jewellery, coins, watches or other unwanted valuables, we offer market value prices and accurate valuations. Please contact us or pop into our shop for a no-obligation discussion where we promise discrete and impartial advice.