With its beautiful blue colour and dazzling shine, it's little wonder that Aquamarine has long been a popular choice for gemstone jewellery. Surrounded by myth and legend, with a long and winding history encompassing healing powers and romance, aquamarine is a timeless addition to any collection. And, as the birthstone for March, it's not only Aquarians and Pisceans who are attracted to this stone…
Aquamarine Origin
A naturally occurring gemstone, aquamarine's main mining locations are South America, Africa and some parts of Asia. It is most common in Brazil, but can also be found in Madagascar, Mozambique, Nigeria, Pakistan and Zambia.
Belonging to the Beryl family of gemstones, it is closely related to emeralds and morganite, though remains distinct for its clear blue colour.
History of Aquamarine
Taking its name from the latin 'aqua', meaning water, and 'marina', meaning of the sea, it's easy to understand where its reputation as the gem of the sea originates.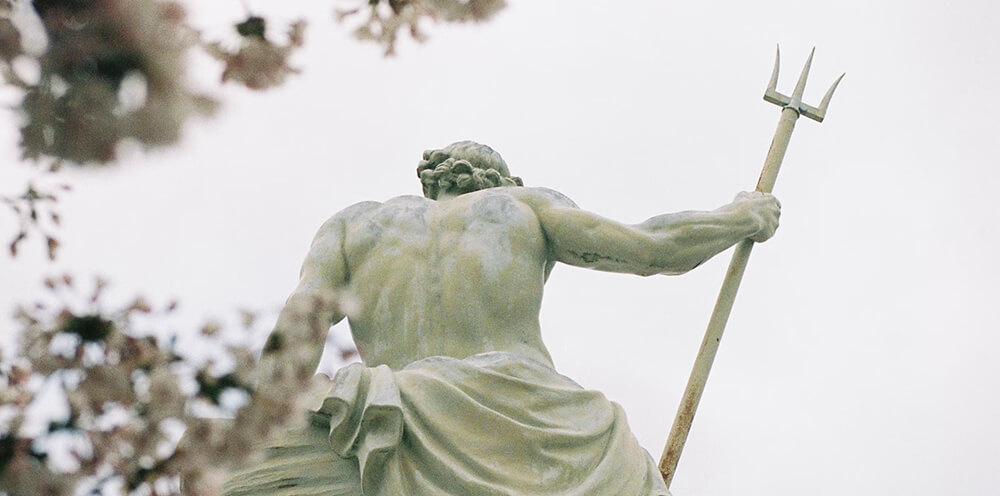 Ancient Aquamarine
Dating back as far back as the Ancient Romans and Greeks, Aquamarine has held its place throughout the centuries as a much admired stone. Unofficially dating back even further still, it's also been aligned with the ancient Gods – with stories claiming that the God of the sea himself, Poseidon, is made from it!
It is said that the Romans looked to aquamarine to help foretell the future, and turn enemies into friends. Later, in the Middle Ages, aquamarine was rumoured to protect from poisonings, which was a common concern of the time.
Gigantic gemstones
The largest aquamarine ever weighed in at a staggering 110kg, or 243lbs, and was found in Brazil in 1910. When this was cut down to smaller, faceted (or many sided) stones, they collectively weighed over 100,000 carats – that's a lot of rings!
In the 1980s, the world's biggest faceted aquamarine was found. Known as 'Dom Pedro', it is over 10,000 carats (10,363 to be precise) and is held at the Smithsonian National History Museum in Washington D.C..
Aquamarine in jewellery
Records date that aquamarine has been used in jewellery since around 500 BC. Its affiliation with the sea, aside from the aforementioned reputation and name, also comes from the fact it was worn by sailors, travellers and Naval officers as a talisman for safe seafaring, to protect against being shipwrecked and to ward off sea sickness.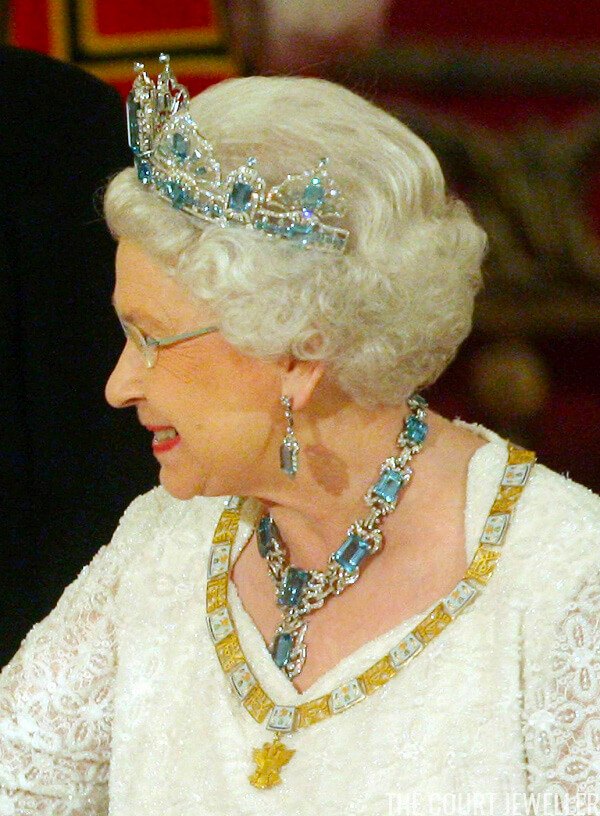 Source: The Court Jeweller Pinterest
Aquamarine and Royals
Alongside its beauty, aquamarine's protective qualities mean it's a stone that's been favoured by rulers and Royals for centuries. Many of those in positions of power have purchased aquamarine jewellery over the years.
It's included in the Czech crown jewels, and even Queen Elizabeth II has an aquamarine parure, or set of matching jewellery. Given to her by the Brazilian government, as a stone so associated with the country, as a coronation present in 1953. So fond of the colour and clarity, HRH later had more aquamarine pieces added, including a tiara.
The Lover's Stone
Aquamarine is often considered to be a lover's stone. In Buddhism and Christianity, aquamarine is believed to promote a happy marriage. And, those of you who have been married for 20 years or more will recognise that it is the official listing of the 19th wedding anniversary.
Keeping tradition alive, Prince Harry gave his new bride Meghan Markle his mother's emerald cut aquamarine gold ring on the day of their wedding.
Aquamarine is a perfect 'something blue' for your Big Day, and we are seeing more couples are opting for it as a unique engagement ring, and an alternative to clear diamonds.
Healing Qualities of Aquamarine
Throughout history, aquamarine has been favoured for its healing properties. In modern crystal healing practices, this stone is still widely used.
Due to its clarity, aquamarine has been used to clarify perceptions, sharpen the intellect and clear any confusion. Its relationship with the sea means it has long been associated with relaxation and soothing fears.
Aquamarine is linked to the throat Chakra, so it can help to encourage communication and is believed to help to soothe sore throats.
Why choose Aquamarine for your jewellery?
Is aquamarine right for you? Well, as a stone steeped in history and healing properties, it's also a pretty good investment too. Based on a 2019 study, it is estimated that some £15bn worth of aquamarines are sold commercially each year, with a 75% female share of the market female, though there has been a recent rise in male wearers.
Although not classed as precious officially (only Diamonds, Rubies, Emeralds and Sapphires are technically classified as precious), it is a semi-precious stone. Unlike its precious cousin, the Emerald, this means that aquamarine can be a more affordable option that doesn't compromise on style or size.
As with any gemstone, it is important to consider the four Cs – colour, clarity, cut and carat – when choosing your aquamarine jewellery. For cut and carat, look for the shiniest and the biggest you can afford. With colours ranging from deep blue to greenish-blue, the deeper the blue, the better the quality of the stone.
Cry for the Moon Aquamarine Jewellery
With such a vast history and striking colour, we're big fans of aquamarine jewellery at Cry for the Moon. From engagement rings, and wedding jewellery to cocktail rings and statement earrings.
If you're looking for a March birthday gift, 'something blue' for a bride-to-be or just a new piece for your own collection, please feel free to get in touch or visit us in our Guildford shop.