As Guilford's oldest running independent jewellers we have, over the years, purchased many thousands of pounds of old gold, platinum and silver. This serves both us, our customers and the environment, in equal measure.
At our Cry for the Moon workshop, we recycle gold and platinum, passing on the savings to our customers. This keeps the price lower than the open market prices, and though many items have been worn and damaged – our recycle and repair service reproduces wonderful commercial assets.
Sell your gold or jewellery to us
We can offer very competitive prices with an instant decision and payment in either cash, cheque or direct back transfer for all types of jewellery. We are just as happy buying broken chains and odd earrings, or that sentimental article that has been sat in the jewellery box for the last 10 years, never to be worn. Many of our customers will happily part exchange these for something that will be worn- producing new, and unique heirlooms.
In doing our part to help the environment, we know that it's much easier to recycle gold than to mine it – and clearly far better for our planet.
Interestingly, if all the world's gold was put together it would fill just over three Olympic sized swimming pools or just under 22m cubed as a solid block of gold. On average 2400-3000 tons of gold are mined every year, and since gold is virtually indestructible, this means that almost all of this metal is still around in one form or another.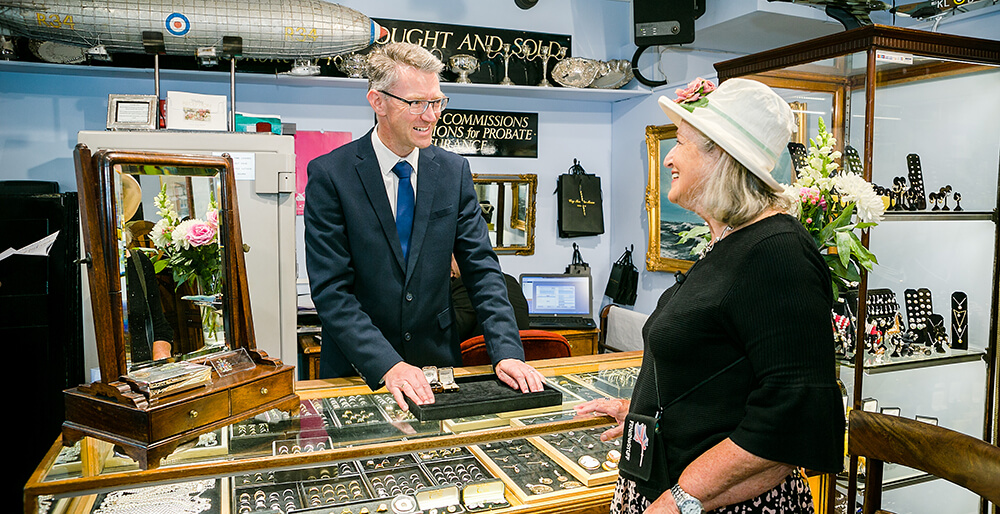 2020 is our Anniversary- celebrating 50 years as a company, having started out in Haslemere in 1970. In celebration, we are very excited to have designed a small range of upcycled 18ct gold pendants each handmade in our workshop, and each unique. These designs are the first in a range we plan to grow and market with both cost and the environmental issues a key factor.
Starting at £535.00 they represent great value
The designs currently consist; a crescent moon, key, open circle, open heart, double entwined circle, and double star, all in 18ct yellow gold.
Bespoke jewellery designs
If you have your own design idea suitable and would like it made, we would love to know! Please contact us for more details.
One of the most interesting and exciting jewellery items we sell are those that have unfortunately, for many reasons, become too worn out to repair and resell. With these, we have a number of remodelling options our skilled jewellers can make:
The first: is to remove the old gemstones and make a replica of the same design period article, this will then have a whole new lease of life which can be lovingly worn and passed on as a future heirloom.
The second: is to use the gemstones to make a more modern design that will appeal to today's fashion lead consumers. Many old diamonds and coloured gemstones will have small chips and abrasions to the facets- but our own trusted diamond polisher and lapidaries (gemstone polisher) can return these beautiful gems to their former bright and vivid colours.