Gold jewellery is everlasting in its appeal and its longevity, with everything from rings and necklaces to brooches and bangles available in all types and carats of gold.
Many people will have jewellery in all three colours of gold – yellow, white and rose. But some people may prefer one style over the other, so what should you consider if you want to opt for a single shade?
Whatever your budget, there is a gold for you. Nine carat yellow gold is the cheapest, with white and rose gold often being more expensive. However, price is one of the least things to think about, when it comes to choosing which gold to have.
Do you plan to wear your jewellery every day, or is it more for special occasions? This could help you decide which tone might be more appropriate. Do you want something that suits all the seasons or something glitzy and glamorous that will catch the light at an evening event, giving you an added sparkle?
| | |
| --- | --- |
| | From £160 |
Skin tone
If you have a particularly warm or cool skin tone, then it may be that one colour of gold will be more suited to you than another. Yellow and rose gold are most effective with the warmer skin shades, while white gold is perfect for the pale and interesting look. But, that doesn't mean you shouldn't go for a contrasting gold colour, if that is the one you prefer.
Your natural skin tone may determine which will look best. But, if you wear a lot of make-up or dye your hair a different colour, then you may find that you will suit all three – yellow, white and rose gold – depending on your particular style that day.
Fashion choices
This ethos will also go for what clothes you choose to wear. Jewellery is used to accessorise your fashion style, and while the choice of chain length or bracelet versus bangle, stud, drop or hoop earrings, or which finger(s) to wear your ring(s) is often an unconscious decision based on what works best with your outfit, the same could be said for the colour of metal you opt for too.
Yellows, reds, pinks and purples all lend themselves to yellow or rose gold, while greys, blues and greens are more suited to white gold. Again, it is all about the warmer and cooler tones. And, as usual, black goes with everything!
| | |
| --- | --- |
| | From £105 |
Durability
White gold is more resistant to scratches than yellow gold, as it has increased alloy content. So, if you are looking for something long-lasting that requires little maintenance, white gold is a good option. Nevertheless, if you want it to keep its lustre then having it re-dipped in rhodium coating every few years is a must, or the yellow base may start to appear.
Yellow gold mainly needs polishing with a special cloth, which you can pick up from most jewellers. Rose gold is mixed with copper to give it that hue, which also strengthens the base pure gold metal, due to its inherent toughness.
Jewellery style
Your choice of gold may be down to what the item of jewellery actually is. It may be that some areas, such as ears and wrists, are more sensitive to certain alloys such as nickel, than other parts of your body. So, this may in itself determine which gold you want for what. White gold no longer contains nickel, making it and 18 carat gold a good option for those sensitive areas. Whereas rose gold can often make a statement so is perfect for something like a bracelet.
Yellow gold is the most traditional colour, and often the one to be found in most jewellery, such as necklace chains, so it is likely easier to buy something in yellow gold, regardless of where on your body it is going to adorn.
Design features
Will the gold be used as a setting for a pendant or a stone, rather than being the main feature of the jewellery piece? If that is the case, then the colour and shape of the stone or locket or charm may lend itself to one colour gold above the others.
Aquamarine and sapphires look best with a white gold, whereas garnets and rubies suit a yellow gold more, and rose gold looks great with quartz and pearls. As expected for such a popular gem, diamonds work with all three.
If you are having your gold jewellery engraved, that may also be something to consider when choosing which gold to have, as the lettering may show up better on one rather than the other. And rose gold is stronger and may withstand the engraving process the best.
Nevertheless, we can engrave any form of gold and any style of jewellery, so do get in touch to discuss your requirements and we will make sure that the jewellery is as special as the person you are giving it to.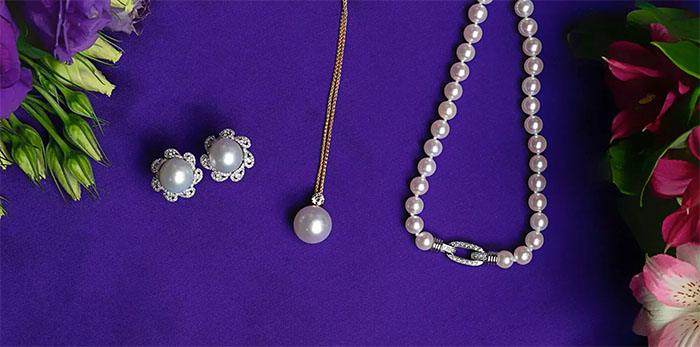 Vintage or heirlooms
Rose gold has been around for many years, and is often found to be the colour in a lot of vintage jewellery. With the vintage look coming round again and being a particular fashion choice for millennials, rose gold is having a bit of a comeback, after falling behind the everlasting yellow gold and more modern white gold in the market.
If you are considering buying a piece of jewellery that you intend to hand down from generation to generation, then you cannot go wrong with yellow gold.
Its timeless style will always be in fashion and is unlikely to lose its value. Keep it polished to avoid any tarnishing and it will stay looking as good as when it was first made.
Final thoughts
Ultimately, the choice of gold is entirely up to you. But, we hope that these pointers have given you some idea as to what might work best in a variety of different situations. Don't hesitate to come into our store in Guildford and try a few items on or contact us today for advice from our friendly sales staff.
If you can't find something you like, we'd be very happy to create something bespoke for you, using the gold tone of your choice, matched with precious gems and a simple or intricate design.