When it comes to jewellery, it isn't cats, dogs and rabbits which are high up on the design list, but some of the more exotic and unusual animals get more of a look-in. Snakes and butterflies have long been popular animals depicted in jewellery, going back to Ancient Rome and Egyptian times, and are still regularly seen in designs today.
Any animal can be reproduced in jewellery, in gold or silver, or picked out in gemstones, making it the ideal gift for any animal lover in your life, whatever their creature of choice. However they want to wear their animal, there is bound to be a piece of jewellery to suit.
History of animals in jewellery
The ancient Greeks and Romans were very fond of wearing jewellery and it often signified certain traits that they wanted to show off. An eagle, for example, was used to denote power, so anyone wearing one was thought to be an authority figure. The same was true of lions.
This depiction of personal qualities was carried on into the Middle Ages and beyond. With times in religious and political upheaval, animals were thought to offer comfort and solace to those in trouble. Dragons were particularly popular as a way of warding off evil.
As we moved into the Victorian period, insects and birds were often found in jewellery, to show the wearer's love of nature, beauty and freedom. Flowers were equally as popular, for the same reasons.
Now, it is often endangered species that are shown in jewellery design, as a way of support for those animals. These are regularly made using sustainable materials and ethically-sourced metals and stones, with respect for the environment ever-growing in momentum, and fashion.
Celebrity animal jewellery
Frenchman Rene Lalique is one of the best-known and most revered designers of animal jewellery. His work was created in the 20th century and featured fish, swans and dragonflies among his collection. His use of organic shapes and motifs in his jewellery designs was recognised worldwide and is still popular today.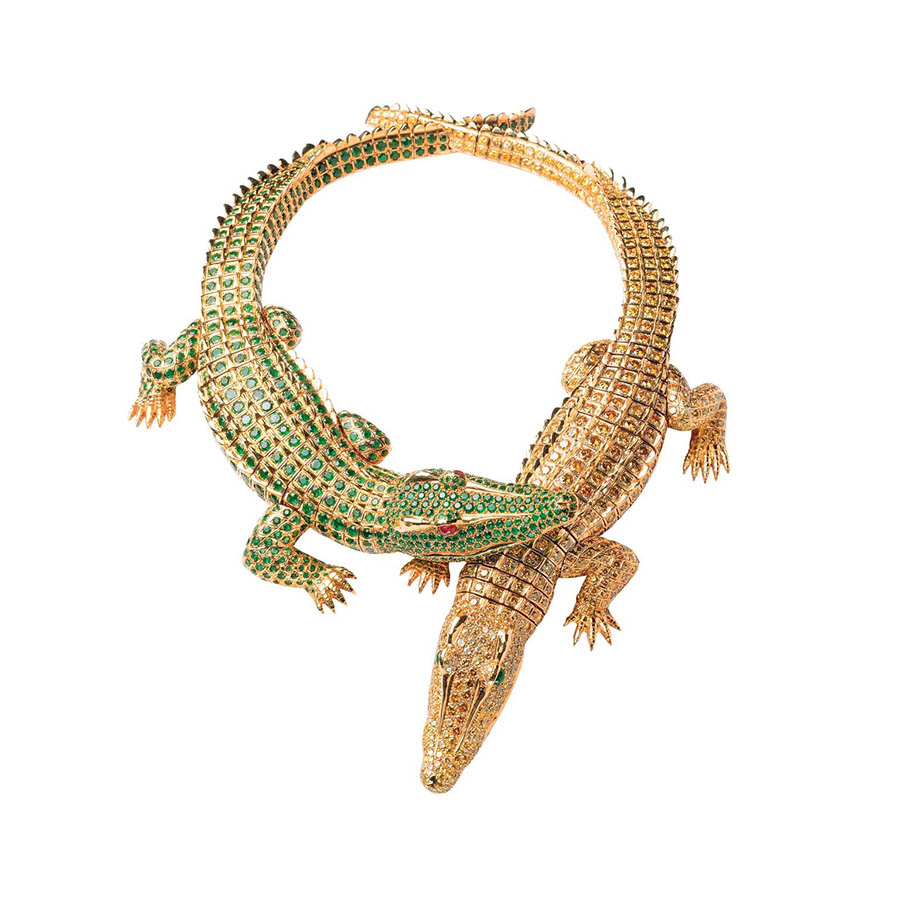 SOURCE: The Jewellery Editor
Cartier have often featured panthers in their designs, but Mexican actress Maria Felix had an altogether more unusual request, actually visiting the Paris store accompanied by a crocodile, to provide inspiration for her jewellery. The crocodile collar necklace it provoked can now be seen in the American Museum of Natural History.
Now on display in the Victoria and Albert Museum in London, Beyonce was once the owner of a mechanical butterfly ring in which the wings actually fluttered as the wearer's finger bent. It was encrusted in tiny diamonds to give it the ethereal and floaty feel of a butterfly itself.
How to use animals in jewellery
Brooches, earrings and cufflinks are often the easiest items to make into the form of a recognisable animal, due to their flat surfaces and easily mouldable shaping opportunities, with everything from delicate dragonflies, popular parrots and crabby crustaceans to somewhat more unusual aquatic life such as stingrays and seahorses, being recreated in jewellery form.
Whatever your friend's predilection for animals, be it domestic pets or zoological wildlife, you will be bound to find something that suits them, however subtle or outrageous they want it to be. So, take a walk on the wild side and see what you can discover.
There is also a huge variety of animal charms for necklaces and bracelets available on the open market, with pretty much any species of animal you can think of having its own adornment portrayal. Animals are never going to not be popular, so it will always be easy to find something that suits your animal-loving recipient.
Unusual designs
Jewellery doesn't have to have a lifelike representation of the animal either. Often some of the best designs are more abstract but still give enough of a look and feel of the animal to make it perceptible to the human eye.
Some of the best designs for animal-themed jewellery are in the vintage and antique jewellery section. Because animal jewellery never goes out of fashion, it will have been handed down from generation to generation from as far back as you can imagine. It will often be more colourful than any other design too, so perfect for a unique one-of-a-kind gift for an animal lover.
Personalisation for pets
People often want their pets immortalised in their jewellery. This could be an accurate design of a specific animal, or perhaps a paw print on the back of a locket which contains a photo of the pet, or even their ashes being used in a ring or pendant.
Engraving the names of pets onto jewellery, such as the inside of rings, is also an option for many animal lovers. It is a quick and easy way to remember a pet on a daily basis, but without being as ostentatiously obvious about it.
Final thoughts
If your friend or loved one is an animal lover, then finding a gift for them is usually quite an easy process. But, for something they will treasure forever, animal jewellery is an excellent option that will put you at the top of their Christmas list.
Our bespoke jewellery service can make something that is completely unique to them, or check out our range of lockets for something off-the-shelf which you can personalise to suit. Our team of craftsmen are highly-skilled in all areas of jewellery design and production, and will happily provide you with a piece of animal-themed jewellery to roar about!