A hallmark on a piece of jewellery proves that it is a genuine metal and not a poor copy of one, contaminated with larger amounts of alloys and plated metals. For a piece of jewellery to be defined as a precious metal it needs to have a certain percentage of that pure metal in its manufacture. This goes for gold, silver, platinum and palladium.
To provide the flexibility involved in shaping the metals into jewellery, the pure metal will be mixed with some form of alloy. However, a hallmark ensures the buyer that what they are purchasing has at least the minimum amount of pure metal for it to be designated precious. This purity can also be known as fineness.
The high value of the pure metals used in jewellery makes this even more important when establishing the provenance and ensuring it is the genuine article.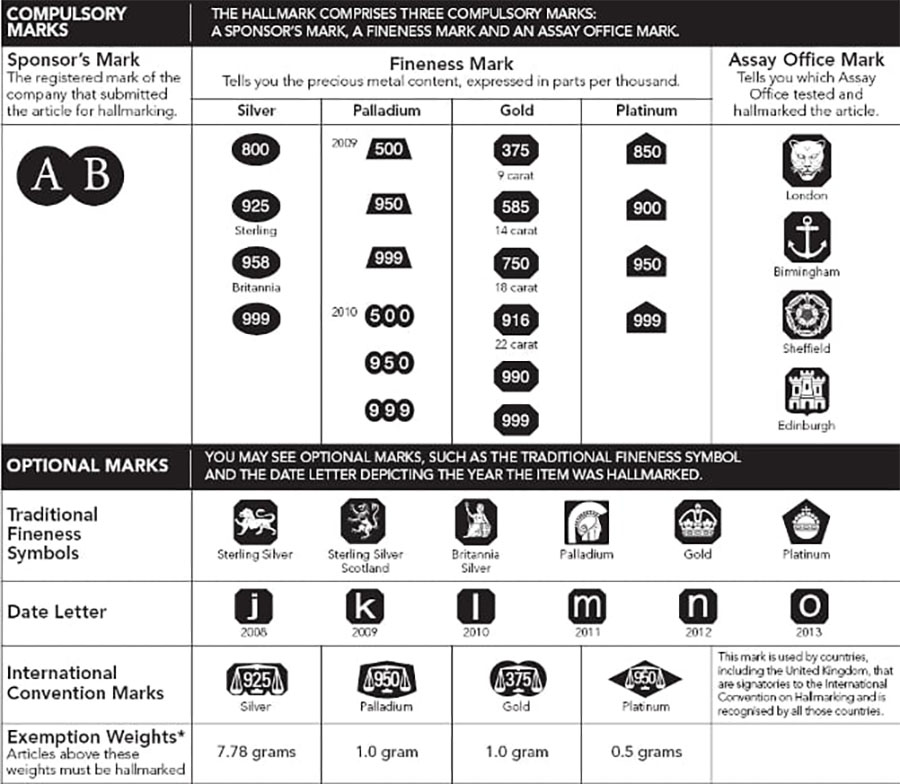 What do hallmarks show?
Much like the red tractor mark on meat and eggs, which certifies that the product has come from a responsible and safely-produced environment, a hallmark on jewellery shows the maker's mark, when it was made, the purity of the metal and where it was tested or assayed. It will also specify if it was made to commemorate a specific event, for example the King's Coronation.
Jewellery hallmarks tend to be situated in a horizontal line and no more than 1.5mm in height. More often than not, they will be marked somewhere that cannot be outwardly seen when the jewellery is being worn, such as the inside of a ring band or bangle, or the back of a pendant.
Why hallmark jewellery?
In order to ensure you are not being sold jewellery that isn't as precious as it is made out to be, the items will only be hallmarked if they contain at least half a gram of platinum, a gram of gold or palladium, or 7.78 grams of silver. These are the minimum amounts for them to be termed as being made of precious metal and worthy of being hallmarked as proof of that fact.
Fraud is rife in the jewellery industry, with unscrupulous makers trying to pass off their items as being genuine. Having a hallmark provides proof to the buyers, and also provides protection to the jewellery industry buyers and suppliers, such as ourselves.
| | |
| --- | --- |
| | From £45-£70 |
Compulsory hallmarks
All jewellers will have their own mark, which is used to signify who has actually made the jewellery and submitted it to be registered. This will often be the initials of the jeweller or organisation. Every mark is unique to that jeweller, so any item can be sourced back directly to them.
In addition, the purity or fineness of the metal will be marked. Perhaps the most commonly-seen mark is 925 sterling silver, but others include 375 for gold which indicates it is 9 carat, or 750 which denotes 18 carat gold, and 950 for platinum and palladium.
These numbers show the parts per thousand of pure metal which has gone into the piece of jewellery. This way, you can be guaranteed that your jewellery is officially made of precious metal.
The International Convention of Hallmarks shows these numbers alongside traditional balancing scales, as an internationally-recognised control mark.
Assay offices are used to test and hallmark jewellery. There are four in the UK, including Birmingham's jewellery quarter (marked with an anchor), London (marked with a leopard), Sheffield (marked with a Tudor rose) and Edinburgh (marked, appropriately, with a castle).
For vintage or antique jewellery that was made before 1960, you may well see a different assay office mark as there have been several over the years, but these four are the only ones currently in existence.
Optional hallmarks
Date letters became optional in 1999, but these show a letter of the alphabet that corresponds with a certain year. In 2023, we have now reached the letter Y. The shape of the stamp, as well as the font of the letter, changes every year on 1st January, so even older items can still be accurately dated using this method.
The London assay office will go one step further with its fineness hallmarking, incorporating a symbol to show the purity and type of metal. For example, gold is shown as a crown, sterling silver with a lion and Britannia silver with a representation of the female warrior Britannia.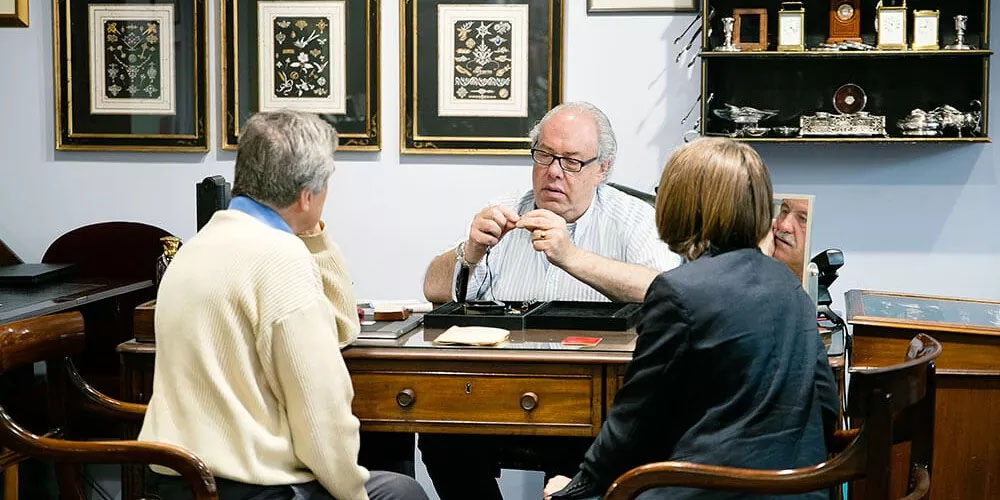 How is jewellery hallmarked?
Stamps were traditionally used to hallmark metals, but it was later recognised that this stamping process could often misshape the item if it was particularly delicate or hollow and make it less desirable. As the item becomes more worn, the hallmark can often be noticed on the outside of it, which is not ideal.
It was then decided to use lasers to hallmark the jewellery. These provide an accurate depiction of the marks required, won't affect the shape of the jewellery and can often be created very subtly so as not to detract from the beauty of the item. It is sometimes necessary to wear a loupe or jeweller's eyeglass to see it more clearly.
Because of how a laser physically marks the jewellery, if an item such as a ring needs to be resized, it can sometimes inadvertently remove the hallmark, meaning it has to go back to an assay office to be retested and reapplied legally.
Final thoughts
If you are unsure about whether a piece of your jewellery is hallmarked, bring it in for us to take a look at through our loupe and we will be able to determine all the necessary information. You should then also be able to trace it back to its original source, if you want to.
We can also value your jewellery for you, with hallmarks being of particular use in this instance. If you have any corresponding paperwork, please do also bring this with you, as it all helps to create a bigger picture and means we can be as accurate as possible, whether you want the valuation for insurance purposes, probate or to sell.
Contact us now to schedule a consultation.