Engagement rings may get a lot of attention, but your wedding band is an item of jewellery you're going to wear for the rest of your life and they're a steadfast symbol of your devotion to your partner. From deciding which metal you want the ring to be made from to engravings, gemstones and embellishments, there's a lot to think about when it comes to picking a wedding band before your big day.
Most women choose to wear both their engagement ring and their wedding band together in what's known as a bridal set in the jewellery industry. But building a bridal set takes some consideration. In this guide, we'll walk you through the different factors to think about and the design options you can choose from.
| | |
| --- | --- |
| | From just £360 |
Wedding band styles
Wedding bands for women come in a broad array of styles and designs, so no matter what style you like, there are options to choose from. Most bands are either straight or curved, but the features can vary considerably.
Straight bands
Straight bands are so named for the symmetrical, circular shape they have. They're typically worn alone but they can also be paired with an engagement ring, depending on the style of engagement ring you have.
Curved wedding bands
Also known as 'shaped to fit' bands, these are curved to contour around the shape of your engagement ring and are worn tightly next to your engagement jewellery. Some curved bands are designed to have multiple curves and points, while others may have a subtler curve for a perfect fit. Curved wedding bands can be as simple or elaborate as you want, from multi-metal and gemstone rings to a simple metal band.
Eternity bands
Eternity wedding bands are also sometimes called infinity bands and they get their name from the endless circle of stones or the pattern design of the ring. It's believed to be a representation of endless love and can be crafted with a contour or a straight shape, depending on your style of engagement ring.
Half eternity bands
Half eternity bands offer a similar look to a classic eternity band but they're more affordable as there are fewer stones included. The other half of the ring is metal or can be inlaid with another material.
Stone cuts and settings
The style of your wedding band can be impacted considerably by the shape or setting of gemstones, whether you go classic with diamonds or something more colourful such as rubies.
Marquise cut stones have a pointed oval shape and are often bezel set, with the metal of your wedding band surrounding it.
Baguette cut stones are rectangular in shape, and they can be used to create a single stone with a simple metal band or multiple stones used for a modern eternity band.
Pave is a style of smaller stones which are set into the ring with a prong setting. They're typically round cut and often used for multi-stone eternity bands.
Channel set stones are secured with a channel of metal, in which small stones are set. They're kept in place by the lip of the metal channel.
When it comes to choosing the stones, if you want your wedding band to have gemstones included, make sure you stick to durable, hard-wearing stones such as diamonds, sapphires or rubies. Consider your lifestyle when choosing how many stones you have in your wedding band and the style – pave styles add a lot of glamour and sparkle, but they run the risk of coming loose over time if you have a more active lifestyle. If you don't want to run the risk of this but still want the flair of multiple stones, a channel setting may be a better fit.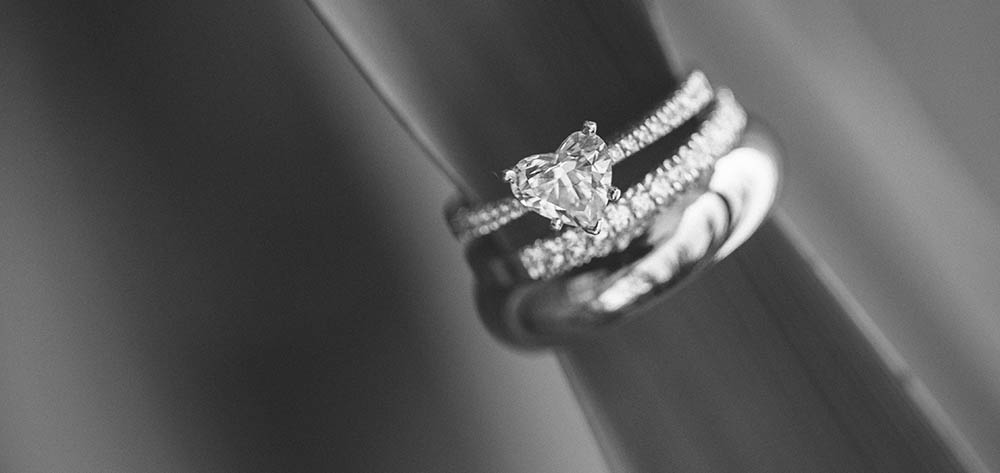 Wedding band width
The width of the band is another design choice that's personal to each bride. Many brides choose to match the width of their engagement ring, which is typically between 2mm and 4mm, but mixing widths can also create a unique look so don't feel that you have to match them – choosing a narrower or wider design can still look beautiful and helps create something personal to you.
Engraving and etching
Engravings can be a wonderful way to personalise your wedding jewellery and make it even more special. You may want to include a message or a word that has personal meaning, the name of your partner or the date of your wedding, for example. Patterns and designs can also be etched into the band of the ring to enhance the design of a simple metal band. Here at Cry for the Moon we offer a free engraving service for wedding bands, so make sure to enquire about that when choosing yours.
What is the wedding ring profile?
The ring profile of your wedding band refers to the shape of the exterior of the ring and it's one of the most important design elements of your band. The most common styles are round or flat, and you may choose your band to match the profile of your engagement ring for a complementary, uniform look.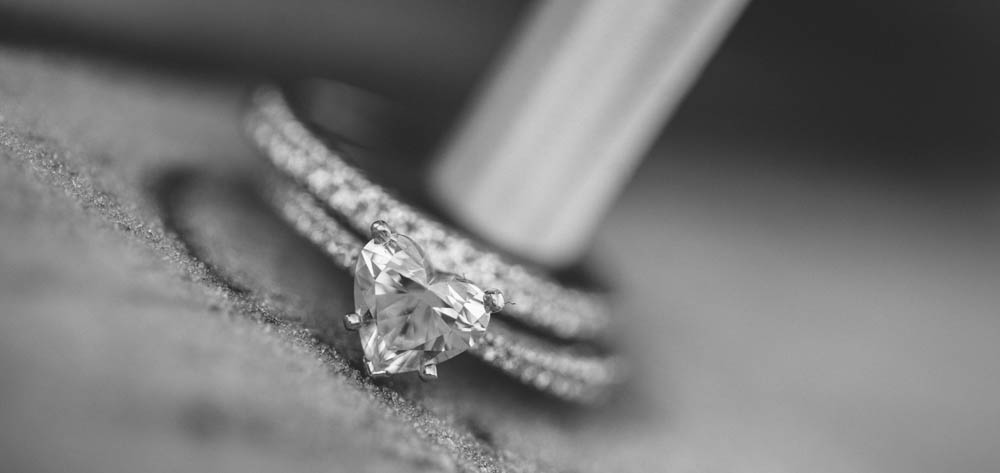 How to wear your wedding band
Whether you choose to wear your wedding band on its own or with your engagement ring is entirely up to you, but traditionally the wedding band is worn on the inside of your engagement ring. It's believed this is so that it's closer to your heart, but you may prefer to wear it on the outside of your engagement instead if that's more comfortable for you.
Final thoughts
We hope this guide has helped you decide what you want from your wedding band – as you can see, there are many options to choose from and various ways to make your wedding jewellery unique to you and your tastes. At Cry for the Moon, we offer a great selection of wedding bands, bridal sets and engagement rings with various metals and stones to choose from. Browse our jewellery online, visit our store or get in touch with us if you have any queries.